The age-old snack debate of nutrition versus taste.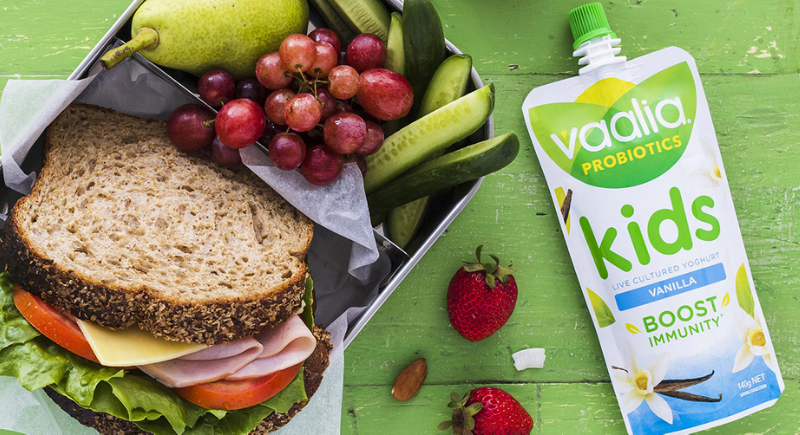 Healthy Kids: Dietary Benefits of Calcium, Probiotics and Protein
Choosing the Right Snacks for Kids
The age-old snack debate of nutrition versus taste. It's a dilemma we're sure all parents can relate to on some level.
Kids, of course, are all about taste, but it's still important to ensure they're receiving the necessary nutrients key for development and growth.
We look at some ways you can choose the right snacks for your kids that won't end in a shopping aisle tantrum.
Balancing health benefits with taste
It's unavoidable that kids will want to snack throughout the day – especially at school during recess. This makes it hard to encourage solely nutritious eating as kids begin to compare with what their friends are having and orchestrate trades.
It's important to balance nutrient rich foods with snacks that still deliver on taste – such as yoghurt.
The ultimate snack for kids
Our Vaalia Kids yoghurt pouches offer tasty flavours that kids love, all while providing them with important probiotics that strengthen their immune system.* Our pouches contain no artificial flavours, colouring, sweeteners, or preservatives, but do come packed with nutrients such as calcium, protein and vitamin B12 for sustained energy and concentration.
Thanks to their ready-to-go pouches, it's also super convenient as a lunchbox filler, or for your little ones to enjoy at home.
Healthier snack options
There are a number of other healthier snack options you can consider that still offer yummy taste.
Popcorn: You might think this is an unhealthy option, but it's actually a nutritious whole grain. As long as you don't coat it in lots of butter, salt or other toppings, it's a convenient healthier snack great for on the go.
Trail mix: This can easily be prepared at home and customised to offer a mix of healthier nuts, grains and fruits, with some little chocolate treats thrown in too.
Carrot sticks and hummus dip: The combination of a healthier dip is a great way to get kids to eat their veggies.
Turkey and avocado roll up: A healthy and easy to eat snack that's high in protein and heart-healthy fats.
Energy balls: They might taste like cookie dough, but energy balls are actually made with nutritious whole ingredients. You can make these using either ground flax and whole chia seeds.
Peanut butter and banana quesadilla: This creatively healthy combo is a great way to give your kids a protein, potassium and fibre rich snack.
Start Snack Shopping Today
Whether for school, around the home, or when out and about, our Vaalia Kids yoghurt pouches are a tasty and nutritional snack option. You can find them at Woolworths, Coles and select independent retailers.
*As part of a varied and healthy diet, LGG ® probiotic in Vaalia yoghurt at a daily intake of at least 1 billion CFU can strengthen the immune system in the general population.
^ Source: IRI Scan Sales; Value ($); National Weighted; MAT 08/11/20