Give your kids the fuel they need to thrive.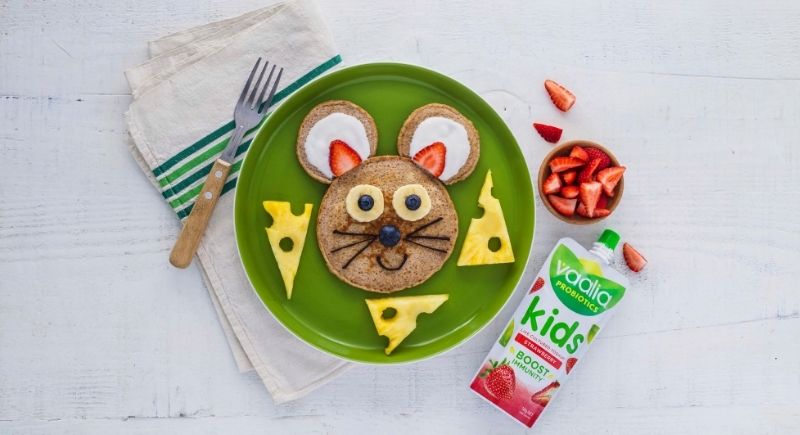 Healthy Kids: Dietary Benefits of Calcium, Probiotics and Protein
It might feel like kids grow overnight, but they can't do this without the necessary nutrients to fuel their development. Children need a steady supply of nutrients from a healthy and balanced diet, including calcium, proteinand vitamins. This is important for normal growth and development, to support their teeth, bones and muscles, improve their immune system and to keep their minds focused and energised. Ultimately, healthy kids mean happy kids,
Read on below as we explain exactly why it's so important to give kids the fuel they need to thrive.
Vaalia Kids yoghurt
Thanks to our Vaalia Kids yoghurt pouches, you can provide the goodness of dairy and the added benefit of probiotics in an easy and convenient way. They are a source of calcium, protein and Vitamin B12, they're made especially for hungry, growing bodies. Better yet, our pouches contain three probiotics, Bifidobacterium (BB12), L. acidophilus and most importantly; Lactobacillus LGG®, which strengthens the immune system.*
Our kids yoghurts are packed with goodness and they don't compromise on taste, all in a convenient lunchbox sized pouch. What could be easier – or tastier?
Calcium
Calcium is a very important nutrient most commonly found in dairy products such as yoghurt, milk and cheese. It's most important for young kids as it contributes to normal growth and development and is necessary for helping normal bones and teeth grow.
Probiotics
Our bodies contain billions of microorganisms, some of which are known as bacteria. Not all bacteria are bad for us, though. Probiotics help replenish our body's good bacteria levels which make them important in diets for both young and old. You can find probiotics in a number of foods, such as our Vaalia Kids pouches and Immunity Boost Drinking Yoghurt.
Vaalia contains a special and unique combination of live and active probiotics including LGG that can help strengthen children's immune system*.
Protein
Protein is also a very important nutrient for growing bodies. Necessary for tissue building and repair, as well as muscle and bone growth and development, protein is one of the body's essential fuels. It goes without saying that protein is a must-have in your child's diet.
Conclusion
Wondering where you can find the necessary foods that contain all of the right nutrients and vitamins? Well our Vaalia Kids yoghurt pouches Immunity Boost drinking yoghurts are a great place to start. Containing many of the necessary nutrients to help young bodies grow up strong*, our range offers a tasty snack that kids love, and their bodies love more. Find them at Coles, Woolworths and selected independent stores.
*As part of a varied and healthy diet, LGG ® probiotic in Vaalia yoghurt at a daily intake of at least 1 billion CFU can strengthen the immune system in the general population; calcium and protein for normal growth and development, to support teeth, bones and muscles; and vitamin B12 to improve their immune system and to keep their minds focused and energised.
^ Source: IRI Scan Sales; Value ($); National Weighted; MAT 08/11/20
**https://www.health.harvard.edu/staying-healthy/can-gut-bacteria-improve-your-health
**https://www.healthline.com/health/cold-flu/good-bad-germs#Probiotics-and-Health