Top 5 healthy eating tips for kids, to inspire you these school holidays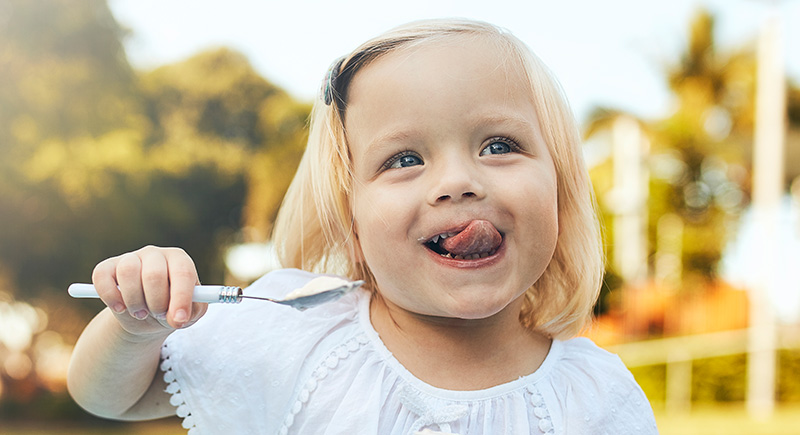 School holidays is often a time when we want to take the foot off the pedal a little…which is fair enough I say! After another year of lunch boxes, we deserve a break! Small problem though – the children still need to eat!! Karina is a mum of 2 and leading paediatric dietitian who shares her tips on feeding her children and keeping their immune system strong over the school holiday period.
Stick to regular times for meals and snacks.
Whilst it's nice to be a little less regimented in the school holidays, being consistent with meals and snacks can certainly make it easier to get good food into them. Skipping meals, usually means that kids will want to snack a whole lot more – and often it's those quick easy packaged foods that they tend to reach for in the cupboard.
These packaged foods are often white processed carbohydrates such as rice crackers, crisps, shapes and other puffed potato and corn products. Whilst they might taste good, they aren't offering their little bodies much aside from "fast sugar". These foods are usually very low in fibre and nutrients and often high in salt. If your children are grabbing these, try to pair them up with healthy partners for example rice crackers with cheese and cucumber or cruskit with nut butter or hommus.
Have a good breakfast – even if it is a little later
Kids need a wholesome breakfast to set them up well for the day. If they don't, you run the risk of them wanting to snack more. Wholegrain products enable a slow release of sugar into the blood stream which means kids have longer lasting energy, concentration and better mood and behaviour (hallelujah!).
Good options include wholegrain cereals such as oats, Weetbix, muesli, Sultana Bran, Grainy or wholemeal toast with avocado or nut butter. Eggs are another good option – whether it be in scrambled, fried or soft boiled with side of grainy "soldiers". Baked beans are also very healthy – eaten on their own or with toast. Wholemeal crumpet with banana, honey and yoghurt is another popular option with a good balance of nutrients.
Smoothies are another great way of getting in a blend of nutrients – smoothies can be adapted to personal preference but can include a mixture of fruit, spinach, oats, chia, nut butters, avocado, yoghurt, probiotics, milk (or milk alternatives).
Support their gut health and immunity through good food choices.
More than ever, we want our children to have healthy robust immune systems. Plant foods rich in fibre (AKA prebiotics) and foods rich in probiotics such as yoghurt and fermented foods will support gut health, immunity and overall well-being. The probiotic which has the strongest link to supporting the immune system is the LGG probiotic which is found in Vaalia kids immunity boost.
Our children need plant foods regularly throughout every day. Repetition is key – the more children get used to fruit and vegies being on their plate, the more they are likely to accept and eat it! You can't underestimate the importance of a healthy diet on our children's gut microbiome and overall well-being.
Example of a healthy day for a child:
Breakfast: Wholegrain toast with avocado or nut butter or wholegrain cereal with milk/yoghurt + a side of fruit
M/Tea: Home baked good (eg muffin/brownie) with fruit or Vaalia kids immunity boost
Lunch: Grainy or wholemeal sandwich (or wrap) with chicken, lettuce and mayonnaise with a side of chopped veg
Afternoon tea: Platter of grainy crackers, hommus, nuts, chopped raw vegies
Dinner: With the meal, include 3 different coloured vegies on the plate
Dessert: Fruit, yoghurt or Vaalia kids yoghurt pouch
This is a great way to have healthier snacks and also a great way to include the kids in cooking more. Try to carve out an hour on a Sunday or during the week to pop a few healthy muffins/cookies or brownies into the oven. These usually keep in the fridge for a week, so you can grab them when you need them. This is a great way to add more nutrients such as iron, zinc and fibre into your child's day. For some great healthy kids recipes head to www.smartbite.com.au/recipes
Be organised with snacks when heading out.
Whilst you do want to "clock off" a little more whilst on school holidays, it is also great if you can pack some snacks to take with you. This not only saves money, but increases the likelihood of them eating better.
Some good examples include: home baked muffins, cookies, brownies, fruit, chopped raw vegies, cheese and crackers, multigrain rice cakes with butter/cheese/vegemite, nuts, home-made chocolate coated nuts, dried Fav-va beans and chick peas.
Of course, "treat foods" are allowed too, it's just nice to have a good balance!
Credit: Karina Savage, Paediatric Dietitian from Smartbite Nutrition