Quick & easy kids smoothies for any time of the day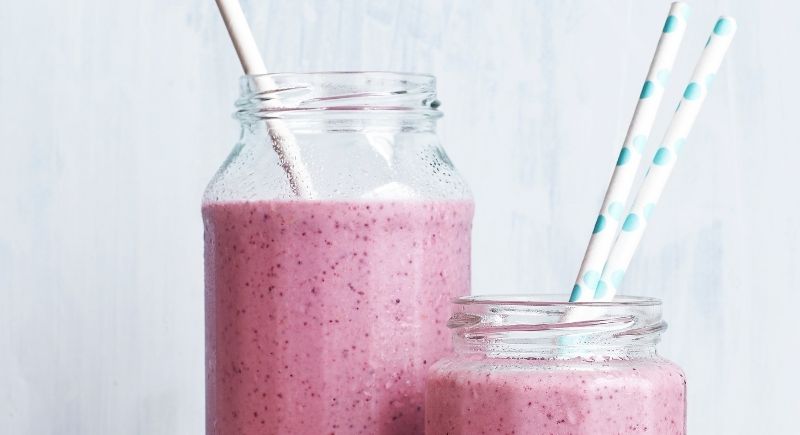 If you worry that your kids might not be getting enough nutrients into their body each day, smoothies are a delicious and easy way to add something nutritious into their diet. For those with fussy eaters, smoothies are basically a meal disguised as a drink, helping to get the good stuff into the mouths of fussy eaters since way back.
You can pack smoothies with fruit, vegetables, oats and so much more including yoghurt, which is such a convenient food for kids and is packed full of valuable nutrients to help fuel growing bodies. It contains calcium which is important for bone strength, along with protein to help your child's continued growth.*
Vaalia Kids yoghurt pouches, you can provide the goodness of dairy and the added benefit of probiotics in an easy and convenient way. They are a source of calcium, protein and Vitamin B12, they're made especially for hungry, growing bodies. Better yet, our pouches contain three probiotics, Bifidobacterium (BB12), L. acidophilus and most importantly; Lactobacillus LGG®, which strengthens the immune system.*
Our bodies contain billions of microorganisms, some of which are known as bacteria. Not all bacteria are bad for us, though. In fact, it's important our bodies maintain a steady supply of 'good bacteria' to help strengthen immune systems, digestion and even help treat or prevent certain diseases**.
Probiotics help replenish our body's good bacteria levels which make them important in diets for both young and old. You can find probiotics in a number of foods, such as our Vaalia Kids pouches and Immunity Boost Drinking Yoghurt.
Vaalia Kids recently launched an Immunity Boost Drinking Yoghurt that is packed with billions of probiotics and added vitamins A & D to help strengthen the immune system* making it the perfect ingredient for a delicious Kids Smoothie.
Here are two quick and easy smoothie recipes using Vaalia Kids probiotic yoghurt, thanks to George from School Lunch Box @schoollunchbox
VANILLA MAPLE DELIGHT
Ingredients
1 x Vaalia Kids Vanilla Immunity Boost Drinking Yoghurt 100ml
1 x Vaalia Kids Vanilla Yoghurt Pouch 140g
½ a banana
Splash of maple syrup
Handful of ice
Method: Pour all ingredients into a blender and blend until all ingredients are combined
VERY BERRY SMOOTHIE
2 x Vaalia Kids Strawberry Immunity Boost Drinking Yoghurt 100ml
1 x Vaalia Strawberry Kids Yoghurt Pouch 140g
½ cup fresh or frozen mixed berries (can you use fresh, just add a handful of ice to the recipe)
Method: Pour all ingredients into a blender and blend until all ingredients are combined
*As part of a varied and healthy diet, LGG ® probiotic in Vaalia yoghurt at a daily intake of at least 1 billion CFU can strengthen the immune system in the general population; calcium and protein for normal growth and development, to support teeth, bones and muscles; and vitamin B12 to improve their immune system and to keep their minds focused and energised.
^ Source: IRI Scan Sales; Value ($); National Weighted; MAT 08/11/20