Recipes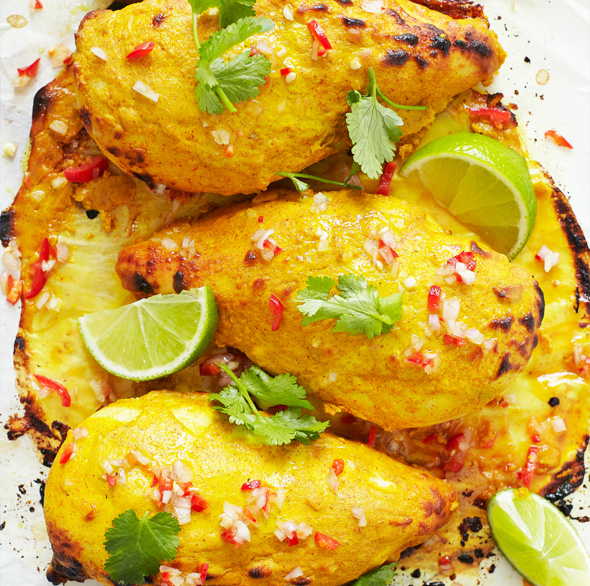 4-6 People

25 minutes + resting time
Ingredients
1kg chicken breasts
¼ cup olive oil
¾ cup Vaalia Natural Yoghurt
4 garlic cloves, minced
5cm knob fresh ginger, grated
1 tsp chili powder
1 tsp ground cumin
¼ tsp turmeric
1 tsp smoked paprika
1 lime, juice only
1 red chili, finely diced
1 small shallot, finely diced
⅓ cup coriander, roughly torn
1 lime, cut into wedges to garnish
1 long red chili, cut into thin slices
Salt and pepper to season
Directions
Start with the marinade by putting the garlic, ginger, all the spices, lime juice and Vaalia Natural Yoghurt into a blender and blitz until thoroughly mixed and combined.
To prepare the chicken, gently score the breasts and place in a large baking dish. Coat the chicken with the marinade using your hands to rub it in. Once all of the chicken is coated with the marinade, cover the dish with cling wrap and place in the fridge for 4-6 hours.
Preheat the oven to 180 degrees.
After 4-6 hours, remove from the fridge, place into an oven proof dish and bake for approximately 20-25 minutes (depending on size it may be a little more or less). During the cooking process, baste the chicken with any remaining marinade.
Transfer the chicken to a wooden serving board, garnish with coriander, lime wedges, chili and shallot. Serve immediately.