Recipes
Roasted Carrots with Cumin Yoghurt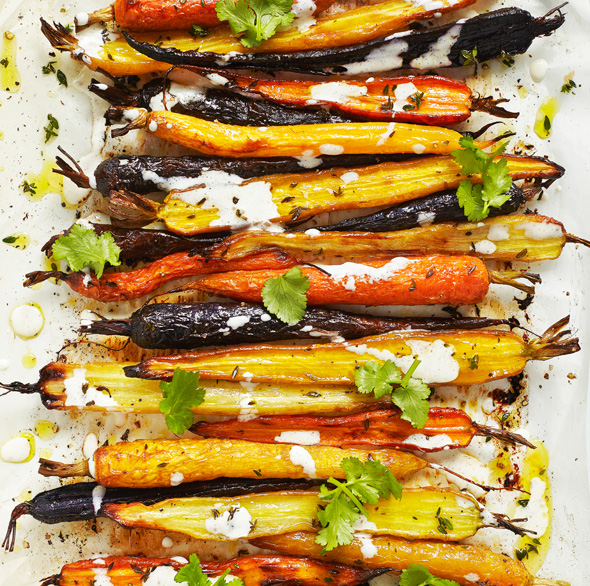 4 People

35 minutes
Roasted Carrots with Cumin Yoghurt
Ingredients
2 Dutch carrot bunches (a mix of purple and orange), stems mainly removed
2 tbsp fresh orange juice
1 tbsp fresh thyme
2 tbsp honey
1 tsp ground cumin
1 tsp ground coriander
1 cup Vaalia Natural Yoghurt
½ lime, juice only
½ bunch coriander, leaves only
Olive oil
Salt and pepper to season
Directions
Preheat the oven to 200 degrees fan-forced.
In large oven proof dish, mix together the carrots, orange juice, thyme, 1/4 cup olive oil, honey and a large pinch of salt and pepper.
Place into the oven and cook until soft and golden brown. Roughly 30-35 minutes.
To make the dressing, mix together the cumin, coriander, Vaalia Natural Yoghurt, lime juice and 2 tbsp of olive oil in a bowl until well combined. Season with a good pinch of salt and pepper.
Serve the carrots topped with the Vaalia Natural Yoghurt dressing and fresh coriander.