Recipes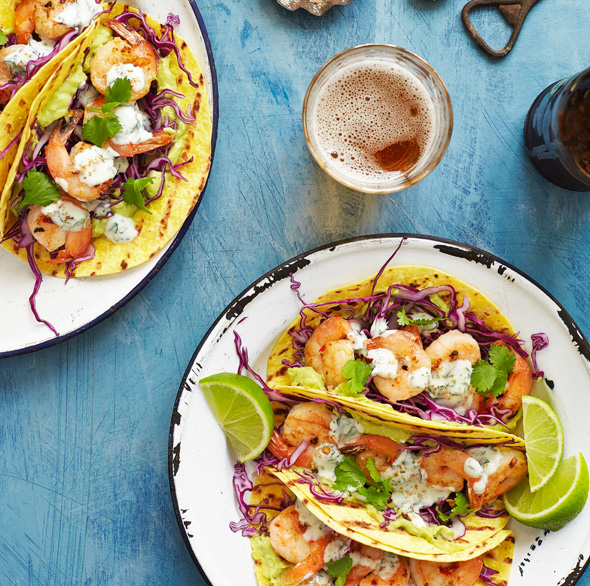 4 People

20 minutes
Ingredients
24 prawns, shelled, deveined and heads removed
3 garlic cloves, minced
1 red chili, finely diced
3 tbsp fresh lime juice, plus 1 lime cut into wedges to serve
2 avocados, pitted
1 lemon, juice only
Olive oil
1 cup Vaalia Natural Yoghurt
¼ cup fresh coriander, roughly chopped
⅓ head of red cabbage, chopped into thin strips
8 corn tortillas
Salt and pepper to season
Directions
Start by mixing the Vaalia Natural Yoghurt, lime juice, coriander and a pinch of salt in a bowl. Cover and place in fridge.
In another bowl, add the prawns, chili, garlic and splash of olive oil and mix to coat. Season with a generous pinch of salt and pepper. Wrap in cling wrap and place in the fridge to marinade for 30 minutes.
Next, heat a splash of olive oil in a large frying pan over a medium-high heat. Once hot, add the prawns to the pan and cook for 2-3 minutes or until the flesh of the prawns is white.
Heat remaining olive oil in a griddle pan over a high heat. Once smoking, add tortillas and fry until lightly golden and charred. Repeat process until all tortillas are cooked.
To make the avocado mousse, place the avocado and lemon juice into a food processor and blitz until smooth. Whilst the motor is running, slowly drizzle in roughly 2 tbsp of olive oil and blitz until well combined. Season with salt and pepper.
To assemble the tacos, place a tbsp of avocado mousse on the bottom, red cabbage on top then 3 prawns across the tortilla and drizzle with Vaalia Natural Yoghurt on top. Serve with a wedge of lime and fresh coriander.