Recipes
Parmesan Roasted Cauliflower with Garlic Yoghurt Dressing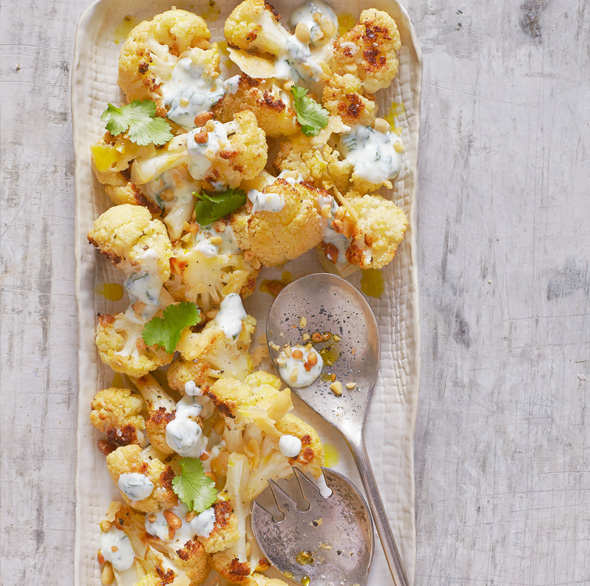 2-4 People

60 minutes
Parmesan Roasted Cauliflower with Garlic Yoghurt Dressing
Ingredients
1 head of cauliflower, broken into florets
3 tbsp olive oil
½ cup parmesan
¾ cup Vaalia Natural Yoghurt
2 small cloves garlic, minced
3 tbsp coriander, finely chopped
¼ cup pine nuts
Salt and pepper to season
Directions
Preheat oven to 220 degrees. In a large bowl, toss florets with olive oil and salt and pepper. Once coated evenly, place on a lined baking tray and put in the oven for 45 minutes. It is important to move the cauliflower around every 10 minutes or so to ensure an even cook.
Whilst the cauliflower is in the oven, make the garlic yoghurt dressing. In a bowl, add Vaalia Natural Yoghurt, garlic, coriander and mix well until combined. Season to taste with salt and pepper.
After roasting the cauliflower for 45 minutes, remove it from the oven and sprinkle parmesan over the florets. Be sure to cover evenly. Place back in the oven for 5 minutes until the cheese has melted slightly.
On a small lined tray, add pine nuts and also roast for 5 minutes or until lightly browned. Remove the nuts from the oven and set aside.
Transfer the cauliflower onto a serving dish and scatter with pine nuts over the top. Serve immediately with garlic yoghurt sauce.