Recipes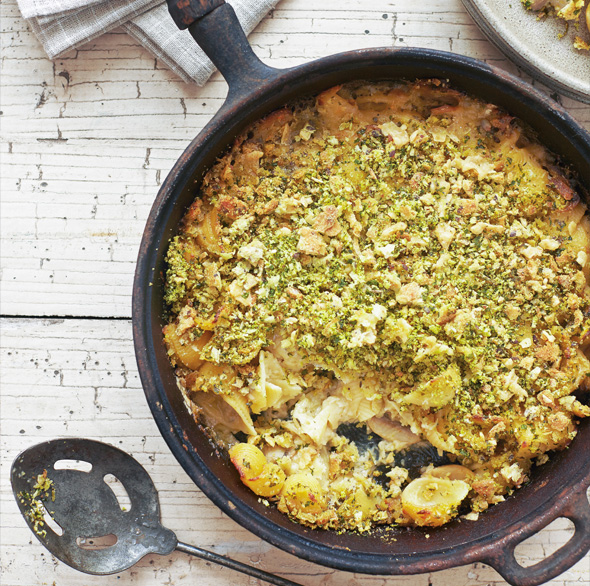 6 People

30 minutes
Ingredients
250g sliced button mushrooms
1 generous tbsp butter
2 sprigs thyme
3 garlic gloves, minced
100g mozzarella
100g cheddar cheese, grated
50g goat's cheese
½ cup Vaalia Natural Yoghurt
2 cups angel pasta
1 cup bread crumbs
1 cup mixed herbs (any of your choice)
50g butter
Salt and pepper to season
Directions
Bring a large pot of salted water to the boil. Cook pasta for 6-8 minutes or until al dente.
Whilst the pasta is cooking, heat the butter, garlic and thyme in a frying pan over a medium heat. Once hot, add mushrooms and cook for 3 minutes until softened slightly.
Drain pasta but reserve 1 cup of water. Return the pasta to the pot and add ⅓ of a cup of reserved water, Vaalia Natural Yoghurt and all the cheese and cook until cheese has melted. Use remaining water to adjust consistency. Finally, add mushrooms back to the pot and cook for 1 more minute.
Preheat the oven to 180 degrees.
Heat the butter and a lug of olive oil in a frying pan over a medium heat. Add in your garlic and cook until softened. Add in your bread crumbs, herbs and cook for a further minute.
Pour the pasta mixture into an oven proof dish, scatter the bread crumbs over the top and then bake in the oven for 5-10 minutes or until the crumbs have browned. Remove from the oven and serve.