Recipes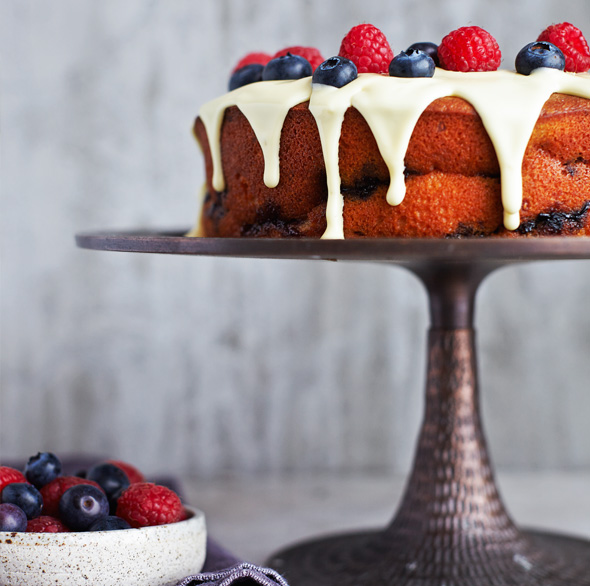 6 Serves

50 minutes
Ingredients
150g butter, softened
1 ½ tsp vanilla essence
⅔ cup caster sugar
200g Vaalia Natural Yoghurt
¾ cup self-raising flour, sifted
⅓ cup plain flour, sifted
3 eggs
⅓ cup almond meal, sifted
½ cup frozen raspberries
½ cup frozen blueberries
Icing sugar for dusting
200g white chocolate
Directions
Preheat the oven to 180 degrees fan-forced and line a cake tin base with baking paper.
In a large bowl using an electric mixer, beat the butter, essence and sugar until a light and fluffy paste has formed.
Add in the eggs one at a time and beat until well combined.
In a large separate bowl, combine the flours, almond meal and Vaalia Natural Yoghurt. Mix well until combined.
Next, add in the wet mixture and whisk until combined. Be careful not to over beat.
Finally, fold through the raspberries and blueberries.
Pour the mixture into your cake tin and ensure an even layer.
Place the cake into the oven for 45-50 minutes or until you can poke a skewer through and it comes out clean.
Remove from the oven and place onto a cooling rack for 5 minutes.
Bring a small pot of water to boil over a medium to high heat. Place a silver metallic bowl over the top of the saucepan and then add in the white chocolate and leave it to melt.
Once the white chocolate has melted, pour it over the top of the cake and let it drizzle down the sides. Once coated, place it into the fridge to harden. Serve.