Recipes
Creamy Potato Salad with Chorizo and Chives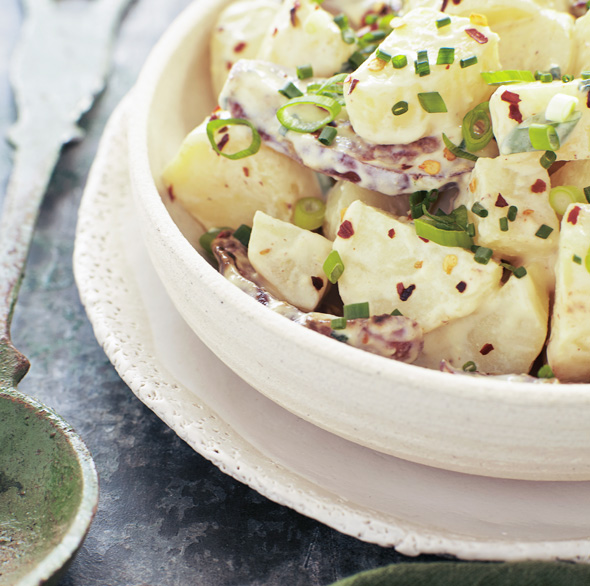 4-6 People

25 minutes
Creamy Potato Salad with Chorizo and Chives
Ingredients
8 red potatoes, peeled and cut into small chunks
2 chorizo sausages, sliced diagonally roughly 1cm thick
2 tbsp olive oil
1 tbsp dried chili flakes
1 cup Vaalia Natural Yoghurt
1 shallot, finely diced
3 tbsp chives, roughly diced
4 tbsp Dijon mustard
Salt and pepper to season
Directions
Bring a large pot of salted water to the boil. Place the potatoes in water and boil until tender (until you can pierce easily with a fork), approximately 15 minutes. Once cooked, drain and cool.
Whilst the potatoes are cooling, cook the chorizo in a hot pan with a splash of olive oil until golden and crispy. Roughly 1-2 minutes each side.
To make the dressing, combine the Vaalia Natural Yoghurt, Dijon mustard and chives in a small bowl and mix together.
Place the potatoes and chorizo into a serving bowl then add your dressing and mix well. Season with salt and pepper to taste.