Back to school lunchbox ideas to inspire you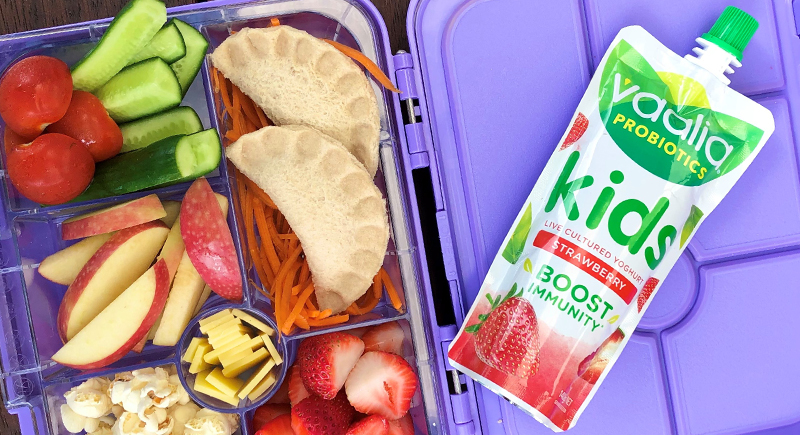 With back to school fast approaching, it's that challenging time again when parents need to think up new lunch ideas to keep their little one's happy and healthy. It's often a fine line to balance, we know. Choosing snack and lunch ideas that are packed with vitamins, calcium and protein for growing bodies, without compromising on taste.
Allow us to share some lunchbox-filler inspiration to make your back to school planning that little bit easier. Here are some of our top lunch ideas.
Vaalia Kids yoghurt is the perfect lunchbox filler
Our Vaalia Kids yoghurt pouch is the ultimate lunchbox filler as it's big on taste and can actually help strengthen the immune system *. This is thanks to the inclusion of three important probiotics, including LGG ®.
This delicious and nutritious yoghurt also contains Vitamin B12 and no artificial colours, flavours, sweeteners or preservatives. With so much goodness packed into a convenient, ready-to-go pouch, it's never been easier to prep school lunches throughout the week.
Option 1: Lunch pizza with a twist
To complement the benefits of our yoghurt pouch, try taking the classic pizza and give it a wholesome twist.
In the lunchbox:
Pizza Topped English Muffins
Savoury Wholegrain Cereal Bites
Apple slices – to avoid browning, try soaking apples for five minutes in a salt water solution with a pinch of salt for every one cup of water. Then rinse and dry before packing.
Vegetable sticks (carrots and cucumbers)
Mixed berries
Vaalia Kids yoghurt pouch
Option 2: Protein packed
To add to the protein already in our yoghurt, there are a few other tasty treats you can include to keep little tummies fuller for longer.
In the lunchbox:
Tuna dip
Corn chips and veggie sticks for dipping
Cherry tomatoes
Assorted fruits such as grapes and blueberries
Wraps with ham, cream cheese, carrot and lettuce
Vaalia Kids yoghurt pouch
Option 3: Sandwich sushi
This is a fun one, and quite easy to prepare. All you have to do is cut the crusts from two pieces of bread, add your preferred spread (we recommend cream cheese) and a small amount of toppings such as lettuce, ham and carrot. Then roll the bread up like a sushi roll and cut into smaller portions. Sandwich sushi!
In the lunchbox:
Sandwich sushi slices
Crackers with cheese
Blueberries and apple slices
Strawberry Coconut Cookie
Cucumber and cherry tomatoes
Vaalia Kids yoghurt pouch
Stock up on your lunch box supplies today
Help your kids start their school year right. Get them a snack that's packed with flavour and nutritional value. You can find our Vaalia Kids yoghurt in Woolworths, Coles and Independent retailers.
*As part of a varied and healthy diet, LGG ® probiotic in Vaalia yoghurt at a daily intake of at least 1 billion CFU can strengthen the immune system in the general population.
^ Source: IRI Scan Sales; Value ($); National Weighted; MAT 08/11/20